3 things that aren't covered by the NDIS
It's well documented what the NDIS covers, but what about the things it doesn't?
We've been helping people navigate the NDIS for years, and if there was any question we get more than others, it's "Is this funded by the NDIS?".
In this blog, we'll go over some of the things people commonly suspect are covered under the NDIS that aren't.
But first, a little bit about reasonable and necessary
We couldn't do a blog about what the NDIS funds without mentioning these two words, could we?
If you've ever asked someone if something is funded by the NDIS, there is a good chance that the phrase 'reasonable and necessary' was mentioned not long after. So, before you get too far into this blog, you might want to check out one of our other blogs – Reasonable and necessary explained.
Reasonable and necessary is, very broadly speaking, how the NDIS decides what gets funded under the NDIS.
1. The NDIS won't cover supports already provided by the government
The NDIS exists to supply services that other government departments don't.
When you have a disability, it can be tricky to know who you need to go through to get funding and support. The NDIS works alongside many other government services, and there is quite a bit of crossover here.
When it comes to who funds what, there are three main government services that can cause a bit of confusion. The healthcare system, the education system and, of course, Centrelink.
The health care system and the NDIS – how it works
This one is complicated – so we did a blog about this a while ago (see NDIS and the health care system).
You might have heard people say that 'the NDIS is the biggest social reform in Australia since Medicare'. Medicare was here first, so generally speaking, anything covered by Medicare is not covered under the NDIS.
That said, there can be some grey areas. So it's always best to talk to someone about your own personal situation and needs.
A note on medication
Unfortunately the NDIS does not cover or help subsidise the cost of medication. This question is one that comes up a fair bit, but you would need to go through the health care system to get any medication subsidies.
The education system and the NDIS – how it works
We find that often there is confusion between what the education system funds, and what the NDIS funds.
You can't claim school fees under NDIS, so anything covered by your school fees will not be funded by the NDIS. The NDIS does a fantastic job of breaking this down, so if you're after more information, make sure you check out their page on education.
The education system and the NDIS work quite closely together on a lot of things. The good news here is that schools are often really good at walking you through everything, so you're not alone navigating this.
Centrelink and the NDIS – how it works
Many NDIS participants also receive payments from Centrelink, the most common payment being the Disability Support Pension (DSP).
The biggest question we get in this space is 'Will the NDIS affect my Centrelink payments?'
The answer to this is no, the NDIS will not affect your Centrelink payments. Any funding the NDIS gives you is not considered income and is therefore exempt from tax.
2. The NDIS won't cover most day–to–day living costs
Most general day–to–day costs aren't covered by the NDIS. Things like groceries, phone bills, event tickets and general living expenses aren't covered by the NDIS. The thinking here is that people without disability buy these things from their own money, and the NDIS exists to cover the gap between having a disability and not having a disability.
If it's something that someone without disability would buy from their personal money, chances are it's not going to be funded by the NDIS.
Of course, like most things with the NDIS, it's not always black and white. The NDIS looks at individual needs and circumstances to decide the level of funding you need and what that funding should be used for.
The top two questions we get asked about in this space are about smartphones and holidays.
Will the NDIS buy me a smart phone?
Will the NDIS buy me a smartphone?
We actually get asked this question a lot and generally I'm sorry, but no, the NDIS won't buy you a smartphone or tablet.
This is because people who don't have a disability generally buy these things themselves.
What the NDIS may fund though are apps or other access equipment you may need. Things like communication aids are commonly funded.
With all that said, we've actually seen the NDIS fund smartphones and tablets but it's incredibly rare and generally only done in exceptional circumstances.
You'll need to prove it's reasonable, necessary and supports you reaching your goals.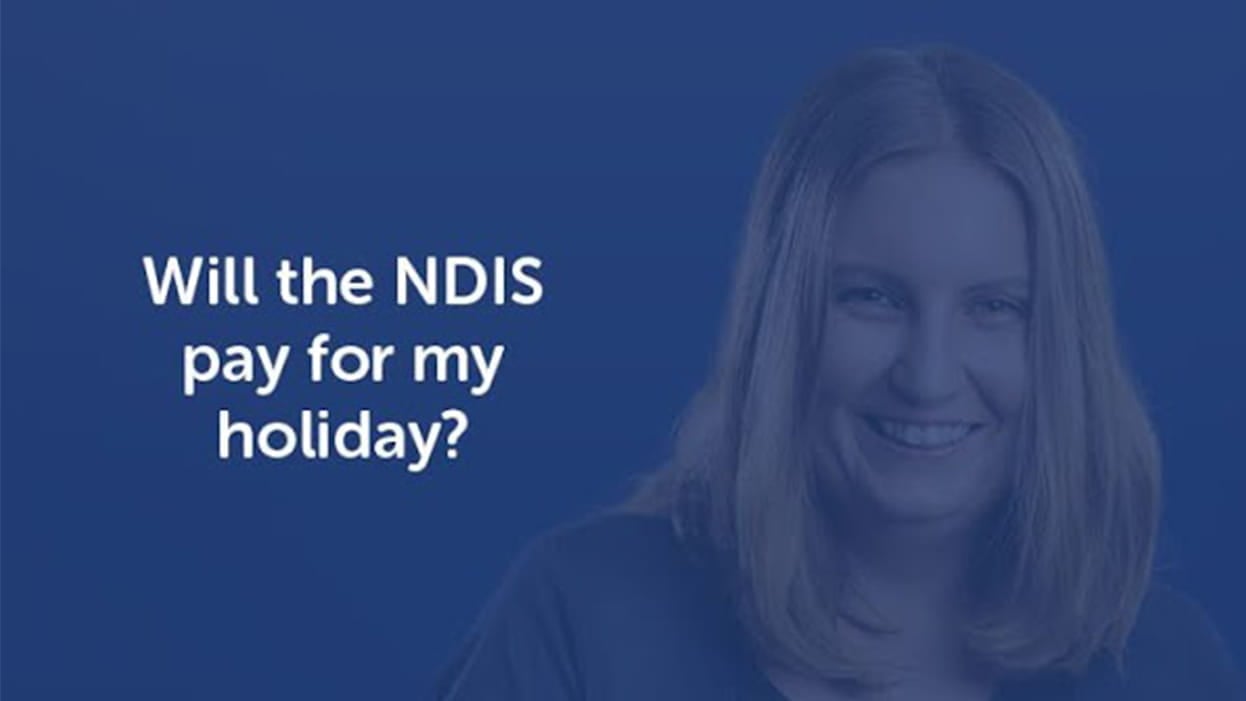 Will the NDIS pay for me to go on a holiday?
Will the NDIS pay for me to go on a holiday?
Mmm, good question, but no, the NDIS won't pay for your holiday.
They could pay for supports you need because of your disability.
Confused?
Think about it this way. People without disability have to pay for their holidays, so it is reasonable for a person with disability to pay for their flights, accommodation and meals too.
If you need supports to access your holiday, the NDIS may be able to fund additional support worker hours for you. You'll still need to pay travel costs for your support worker, such as their flights, accommodation and meals. Or you could consider hiring a support worker in the area that you are visiting.
3. The NDIS won't cover things that aren't related to your disability
This one sounds quite straightforward but there is actually a bit of nuance to it. Of course, if it has nothing to do with your disability, the NDIS won't fund it.
Another way to phrase it could be that the NDIS won't cover supports that they don't see as being related to your disability. The key part of this being that your needs are open to interpretation by the NDIS. This means that a lot of this will be decided in your planning meeting. It's worth noting here that the NDIS generally does a very good job of understanding and asking the right questions, but if you're worried about getting the best out of your planning meeting, make sure to check out our blog "3 steps: How to ace your NDIS planning meeting" Even if the NDIS funds a particular support, it doesn't always mean that you can access it. Different funding categories allow for that budget to be spent in certain ways. They can be quite flexible, but they can also be quite prescriptive.
Is there any NDIS funding for parents and carers?
The NDIS exists to support Australians with disability. But what about the carers? Often we get asked about what NDIS services and supports are available to carers – and this is a very valid question. At this time, there aren't any specific supports that are just for carers. It is all based on the person with disability and what their needs are.
The closest thing to a support for the carer is short term accommodation. This is effectively a form of respite.
Where can I go for help?
We live and breathe the NDIS. We are always happy to help people navigate the scheme. Feel free to get in touch with us on 1800 112 112 if you have any questions about the NDIS.