Our commitments
Our Commitments are the promise we make to the people we support, families, employees, the community and our company. We're committed to providing opportunities for positive change. We move with the people we support on their pathway to possibilities.
Final report of the Disability Royal Commission.
The following statement may be attributed to an Endeavour Foundation spokesperson.
Endeavour Foundation welcomes the release of the final report from the Royal Commission into the Violence, Abuse, Neglect and Exploitation of People with Disability.
We are grateful for the important work of the Commission in providing a platform for people with a disability to be heard.
Throughout this time, we have been distressed to hear about the experiences of people who have endured violence, abuse, neglect, and exploitation.
We are immensely grateful for their courage in speaking out and demanding an end to these grievous injustices - now and for future generations.
Endeavour Foundation reaffirms that we all have a role to play in ensuring that Australia is a nation where people with a disability live free from violence, abuse, neglect and exploitation.
While we have monitored the progress of the Commission and implemented improvements throughout, we will be carefully considering the recommendations, especially in relation to best practice and ways to amplify the voices of people with a disability within our organisation.
For further media enquiries please contact Kirrily Boulton, phone 0429 077 886.
Endeavour Foundation Support for Uluru Statement
Endeavour Foundation is committed to standing with Aboriginal and Torres Strait Islander peoples on the journey to reconciliation.
We recognise that the creation of the Uluru Statement from the Heart represents the largest consensus of Aboriginal and Torres Strait Islander peoples on a proposal for substantive recognition in Australian history.
We humbly accept the invitation in the Statement to walk with Aboriginal and Torres Strait Islander peoples towards a more just future and nation.
Endeavour Foundation commit to playing our part in giving realisation to the Uluru Statement from the Heart.
Our commitment to reconciliation is underpinned by the actions outlined in our Reconciliation Action Plan.
Reconciliation Action Plan (RAP)
Endeavour Foundation and its subsidiary, Community Solutions Group (CSG) is committed to standing with Aboriginal and Torres Strait Islander peoples on the journey to reconciliation.
RAP Status
Our REFLECT RAP was the start of our structured approach to making our organisation culturally safe for our employees and the people we support.
We have now progressed into our INNOVATE stage. In this stage, we will prioritise the development of initiatives, programs and partnerships.
Our commitment to reconciliation reflects and embraces our mission and core values.
We intend to build stronger foundations and develop long-term sustainable engagement. We will recognise and respect Aboriginal and Torres Strait Islander people and their communities.
We commit to building on our RAP by working in partnership with Aboriginal and Torres Strait Islander people. With the goal to achieve health equality, and better health and wellbeing for all Australians.
JOY' by QArt's Mya Wilson, Wurundjeri artist - Commissioned by Endeavour Foundation as the artwork for our Reconciliation Action Plan.
"This idea for this painting was conceived during the Covid pandemic. I wanted to express the disharmony and the multiple challenges that people faced during this time. This is a contrast to the Dreamtime when all living creatures lived harmoniously and sustainably on the land and in the sea. I have used modern bright pastel colours to lighten the mood. The intention is to create a feeling of happiness, growth and hope."
Mya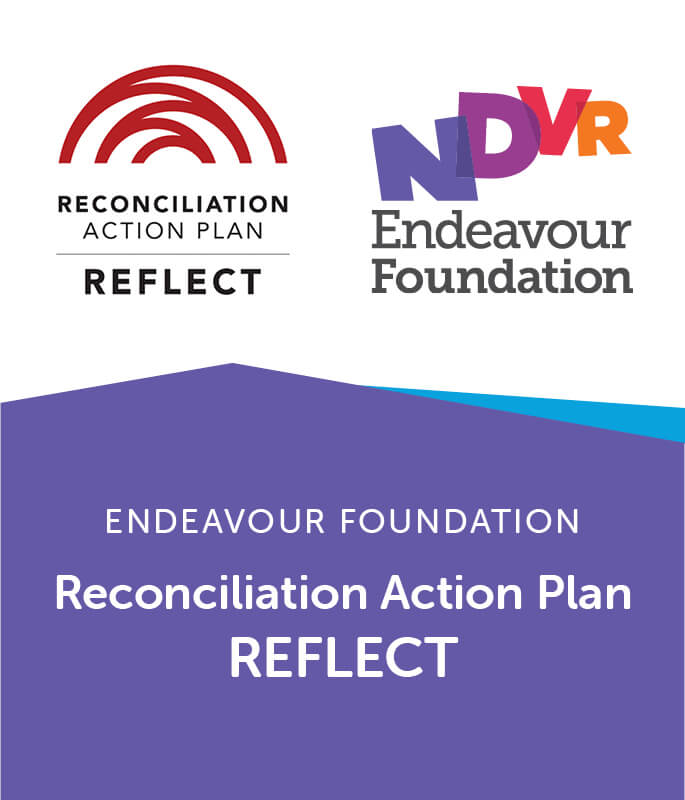 Endeavour Foundation 'Reflect' Reconciliation Action Plan 2021-2022
Below you will find our existing REFLECT RAP endorsed by Reconciliation Australia. We are working to update this document in line with our INNOVATE journey.
For more information, please contact rap@endeavour.com.au.
Modern Slavery Statement
Endeavour Foundation understands and takes seriously our responsibility to uphold high quality, safe and ethical practices. A critical part of this is respecting the human rights of people with disability.
Our commitment to human rights also underpins Endeavour Foundation's first Modern Slavery Statement, in accordance with the Modern Slavery Act 2018 (Cth).
We recognise our obligation to respect and defend human rights by taking measures to prevent modern slavery in our supply chain and procurement practices, compliance and risk management, and through staff education and training.
Safety and the Environment
We are committed to protecting the health and safety of all people in their interaction with the Endeavour Foundation. As a socially responsible organisation, Endeavour Foundation is committed to continually improving our environmental performance as an integral and fundamental part of our business strategy and our operating practices.
As part of this commitment, our Safety Policy and Environmental Policy are aligned and maintained to ensure they reflect our dedication to appropriate safety and environmental management in the communities in which we operate. Accessible versions of the policies are available as a Safety Policy Easy Read and an Environmental Policy Easy Read.
Retention of client files
The contents of a file will be destroyed 10 years after the death of a client. If the death of the client is not able to be ascertained, the file will be retained for 85 years from the client's date of birth, and for 10 years after the last client service provision. Both of these criteria will be met before files are destroyed.
If Endeavour has not actioned a referral for a 'new' client by carrying out an assessment or providing a service, the file can be destroyed 10 years after the last contact.
If the client was younger than 18 years when they ceased to be a client of Endeavour Foundation the 10 year period should not start until they were 18.
If family members wish to obtain personal items of the clients contained in the file before it is destroyed they should contact Endeavour Foundation.
More about Endeavour Foundation