How to find accessible bushwalks
Bushwalks are great for getting out and about, socialising, and enjoying some low impact exercise. Going on a bushwalk is also a great way to connect with nature and explore your surroundings.
Finding bushwalks that are accessible can be a challenge if you don't know where to look. Whether you're in Queensland, New South Wales, or Victoria, these tips can help you hit the trails with confidence.
Accessibility features
One of the most important steps in finding accessible bushwalks is to look for accessibility features. Look for trails that have well-maintained pathways, ramps, and clear signage. Many parks have designated accessible trails, making it easier for people with different mobility requirements to enjoy nature's beauty.
When searching for an accessible bushwalk, consider the difficulty rating and length of the walk. Most trails use a grade of 1-5, with grade 1 being the easiest and 5 being the most difficult. Grades 1 and 2 are generally the most accessible and don't require bushwalking experience. Make sure the trail you choose aligns with your fitness level and expectations. You can also work with your support worker to find the right walk for you and your goals.
Accessibility resources
The internet is a treasure trove of information, and that includes resources for accessible bushwalks. Many websites and organisations focus on providing detailed information including walking conditions for and how to navigate accessible trails. Look for resources like Queensland Government's Find a park resource or New South Wales' Naturally Accessible list, which can offer detailed accessibility information and user-generated reviews. You can also download useful phone apps like AllTrails which offers a great walking trail database with filters, user reviews, and descriptions. With GPS tracking, AllTrails also helps users stay on accessible paths, and its community shares helpful insights and recommendations.
Join a walking group
If you're new to bushwalking or simply prefer to walk in the company of others, consider joining a walking group. These groups are fantastic for socialising while staying active. They often have experienced members who can suggest accessible routes. There are many ways to join walking groups including searching on a walking website or finding one in your local community groups. Our Learning and Lifestyle hubs also have scheduled outdoor activities that can include going out for walks.
Favourite bushwalks in QLD, NSW & VIC
Before you go searching for your next bushwalk, here are some of our favourite accessible bushwalks in Queensland, New South Wales, and Victoria:
Queensland (QLD):
Mount Archer National Park, Rockhampton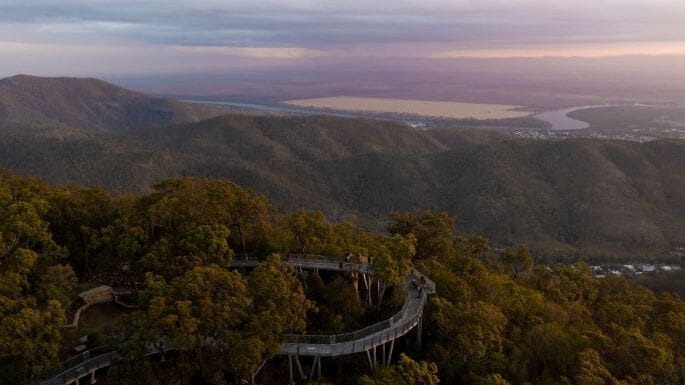 Mount Archer National Park has an easy-to-use path called the Nurim Circuit Elevated Boardwalk. It's 500 metres long and flat, so it's suitable for wheelchairs. This path takes you above the trees and gives you great views of the city and the Fitzroy River. At one point, the boardwalk juts out 25 metres from the mountain, which gives those who dare a really special view of the area. You can also take your time reading the signs that tell you about the local Darumbal culture. A lot of people like to come here to see the sunrise and sunset. The park also has wheelchair-friendly bathrooms and places to have a picnic, which makes your visit easier.
Noosa National Park, Sunshine Coast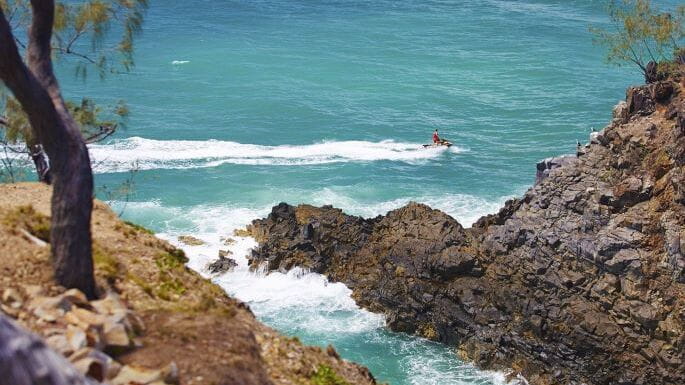 Noosa National Park is a great place for a wheelchair-friendly bushwalk right next to the ocean. The coastal walk starts at the end of Park Road, and there's parking for people with disability near the park entrance. The path is made of smooth concrete, which is ideal for people in wheelchairs or with mobility aids. The trail is a little over 1 kilometre to the Dolphin Point Lookout where you may just spot migrating humpback whales or dolphins surfing the waves. You can enjoy the stunning coastal views and native bushland during this easy walk.
Find out more about these walks here.
New South Wales (NSW):
Jennifer Street Boardwalk, Sydney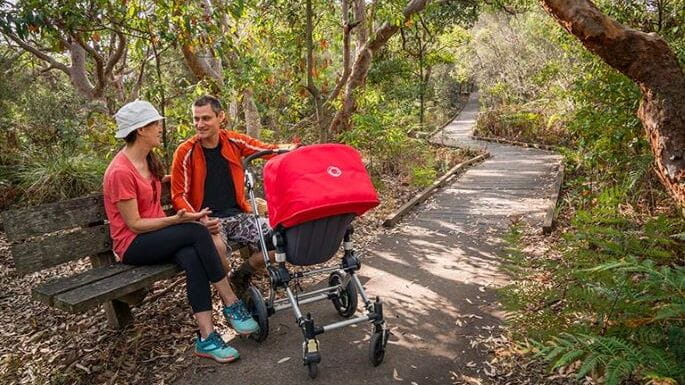 The Jennifer Street Boardwalk is in La Perouse at Kamay Botany Bay National Park in Sydney. It's a short walk that takes only about 15 to 30 minutes. The boardwalk has a smooth path that's easy for wheelchairs, making it a great pick for a slow walk by the coast. If you want a short walk on the weekend or just a relaxing stroll in Sydney, this boardwalk is an excellent choice.
Point Lookout Walking Track, North Coast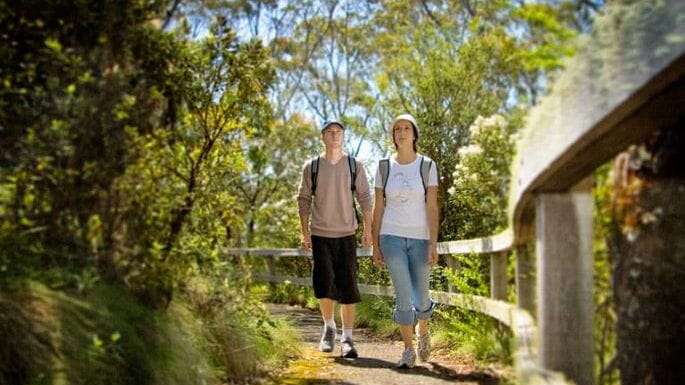 You can find the Point Lookout Walking Track in New England National Park, in the Northern Tablelands ofNSW. This short trail is a loop, and it usually takes 15 to 30 minutes to finish. When you walk this trail, you'll see beautiful views of the surrounding World Heritage listed forest from the smooth path. Point Lookout provides panoramic views of the surrounds to the ocean in the distance, making it a must-see and do walk for people who visit.
Find out more about these walks here.
Victoria (VIC):
Werribee Park Lake Walk, Werribee South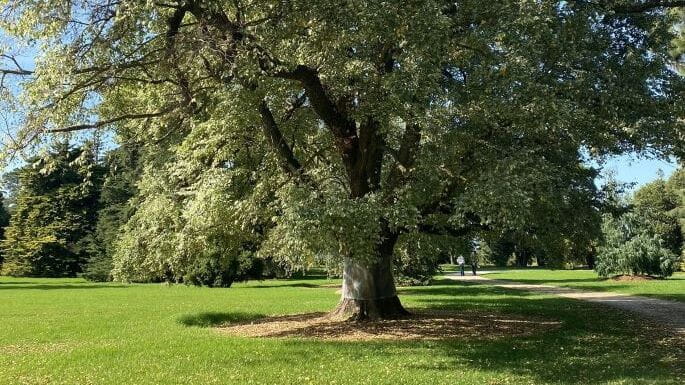 You can have a relaxed walk in the historic gardens of Werribee Park. The paths are smooth and flat allowing everyone to take in the beauty of the impressive Werribee Park Mansion and its well-kept gardens. It's a very easy walk that works for all levels of mobility, so it's great for a laid-back outing.
Highlands Lake Walk, Craigieburn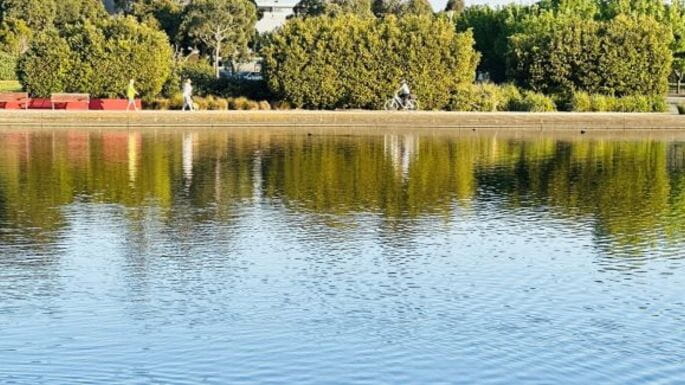 Discover the peaceful Highlands Lake in Craigieburn. Many water birds and visitors love this park. You can walk or use a wheelchair on the accessible path that goes around the lake. It's a very easy walk with wide paths, so it's suitable for everyone.
Find out more about these walks here.
Discovering accessible bushwalks in QLD, NSW, VIC, or anywhere else in Australia can be a fun experience. Going out for a walk, whether it's a typical bushwalk or something different, can be a great way to get out and enjoy some exercise.
By focusing on accessibility features, considering walk ratings of grades 1 and 2, utilising online resources and local walking apps, or even joining a walking group, you can enjoy exercising among the wonders of nature. Happy walking!