Bruceman
Learning in his own way
A one size fits all approach often doesn't work – especially when it comes to disability learning.
Bruceman is someone who is ready to tackle the world, and the staff at our Learning and Lifestyle centres are helping him do just that, in ways that work for him.
Want to know more about our Learning and Lifestyle centres?
Meet Bruceman in the video below.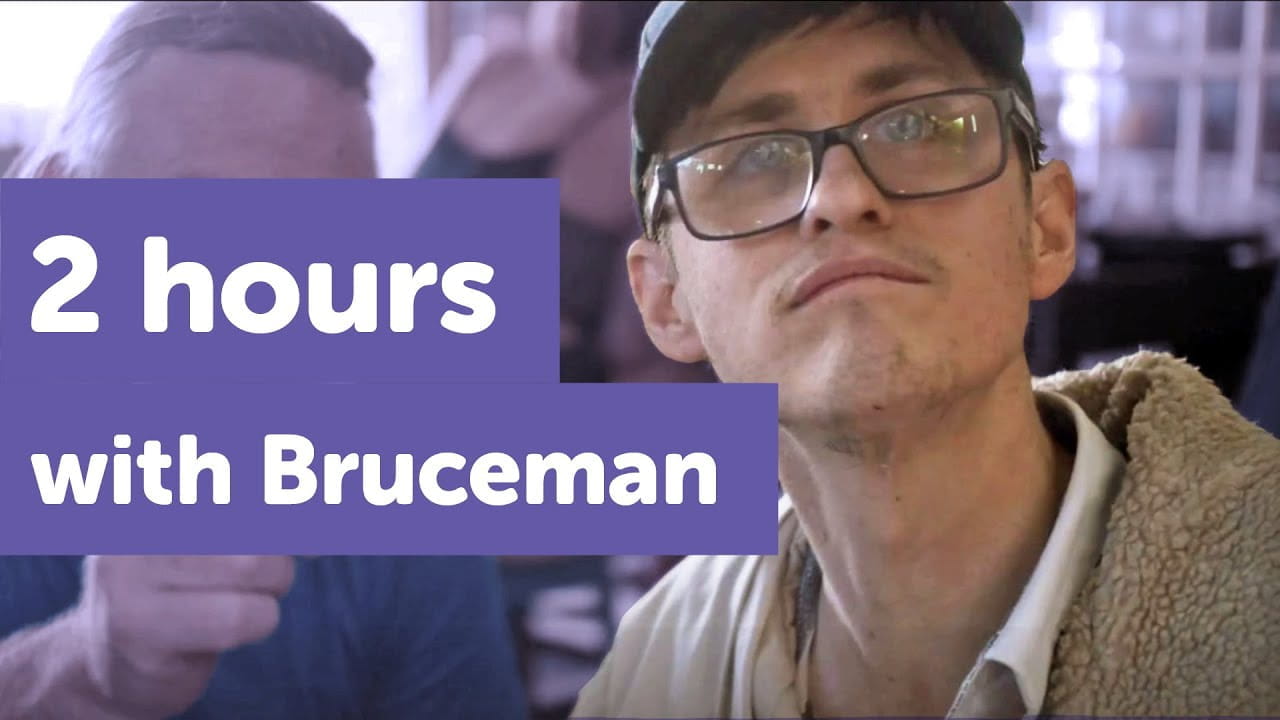 Bruceman: one of the coolest guys you will ever meet
Stewart: See that camera here?
Bruceman: This one?
Stewart: That camera right there.
Bruceman: What? I've never seen one of those!
Stewart: Tell the world your name
Bruceman: I'm Bruceman
Stewart: Ah, Bruceman. What can we say? Um, funny guy.
Bruceman: I like to listen to music. I like to listen to jazz.
Stewart: Whole bunch of ideas and wants to tackle the world.
Bruceman: Oh I need a drink.
Stewart: My name's Stewart. I work at Endeavour Foundation. I love teaching. I love working with young people and being able to provide supports in ways that haven't been thought of before. But at the end of the day, it's not about me, it's about Bruceman, so lets cut to him.
Bruceman: Say cheese! Say cheese. C'mon! It's you, look!
Stewart: When I met Bruceman, I didn't actually know his name. I believe it's James, but I think it's Bruceman simply because it's a character that he exudes.
Bruceman: It's pretty good!
Stewart: So he's kind of cool, really involved, really kind of extroverted kind of guy. Bruceman, intellectual disability. Doesn't necessarily stop him though. Just needs a few supports in terms of learning and being able to access the community.
Bruceman: Mr Independent, that's me!
Stewart: I didn't know this about Bruceman but he's a keen photographer.
Bruceman: That is perfect.
Stewart: Happy with that one?
Bruceman: Yes I am.
Stewart: That's a really good skill to have and that he's actually learning while he is outside.
Bruceman: And that's how you take a photo. See you've just got to point and shoot.
Stewart: to see him do that and to see his eyes light up and then also to be able to edit that on a computer – it's fantastic. So do you like being able to change all the levels?
Bruceman: Yes I do. Yes I do. Because I'm pretty smart at doing that.
Stewart: Endeavour Foundation has created a number of learning experiences with virtual reality.
Bruceman: I can do this!
Stewart: So what we've got here is Bruceman's on the VR driving simulator so we're able to give people a taste of what it's like to work in a certain situation and that's going to give these guys more of an opportunity to live the life they really want and fulfil those goals that they have under the NDIS.
Bruceman: Shhhh! I'm trying to concentrate. Shhh!
Stewart: The beauty of VR is that we can repeat that experience. It's a safe environment as opposed to jumping in a real car and potentially crashing it for the first time and having a really awful experience. Little bit of road rage I think – so that's probably something we need to work on. If you crash out, you crash out. Let's just do it agHow Bruin.
Bruceman: How do I get to maccas?
Stewart: Just keep going straight ahead. Since going to the L&L I've seen Bruceman flourish in terms of what he's undertaking. So engaged in learning and really doing what he's interested in doing – what he's passionate about doing. I see Bruceman on a journey. Certainly not there yet – just like all of us. I guess if I can in some way provide Bruceman those supports then that's fantastic. You a fan of Miley Cyrus?
Bruceman: Yes I am.
Stewart: Of her music?
Bruceman: Yes!