Battle of the Bands rocks Brisbane
We held our inaugural Battle of the Bands Brisbane on 21 May — based on the successful Sunshine Coast event that was started six years ago — at the iconic Eatons Hill Hotel where the likes of Prince, Powderfinger and Rita Ora have performed.
The day was about celebrating our customers and their abilities. They showed the world what they can do and absolutely rocked the house!
Watch the video below to see all the action.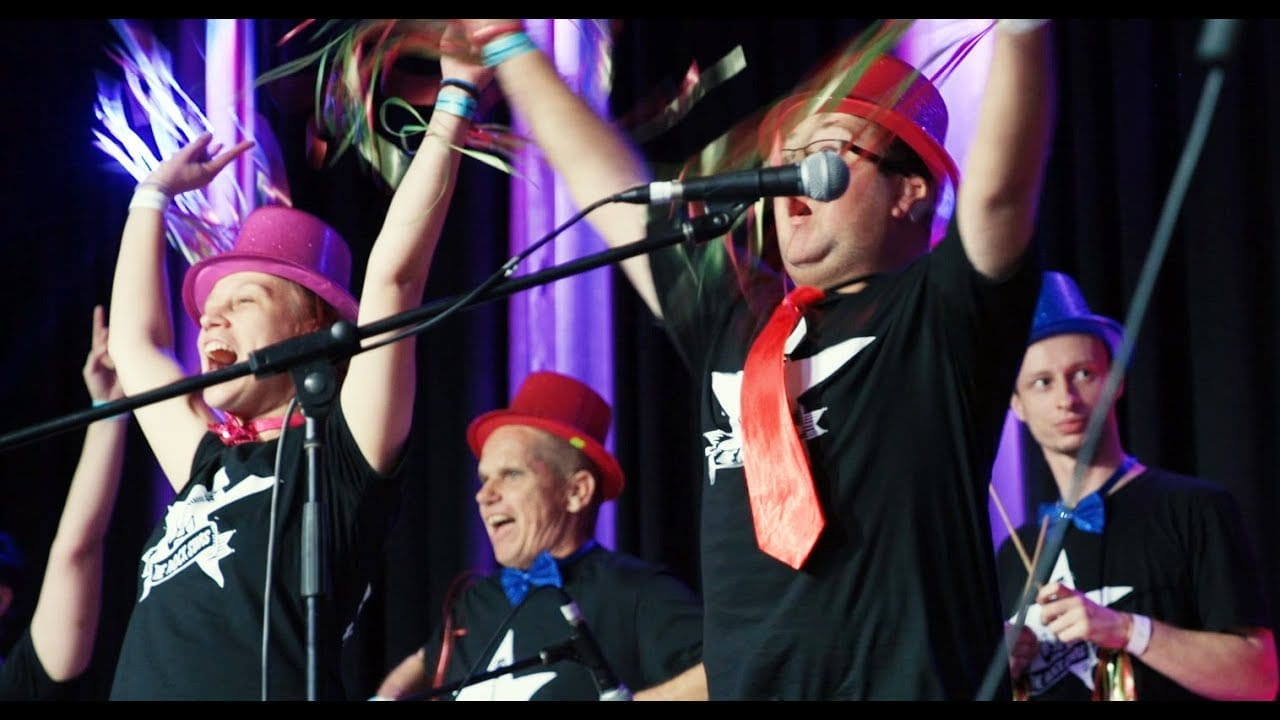 Battle of the Bands Brisbane 2019
Performer: Are you ready? Well, it goes like this.
Paula: This event is so important because it celebrates who we are. It celebrates all of our diversity, it celebrates all of our customers, it celebrates all of our staff and all of us just really coming together to imagine what's possible.
Performer: Words can't even describe how proud of everyone I am.
Amanda: Yeah, I think this is a really important platform for anyone really, regardless of your ability. To be able to express yourself creatively and sink in to something that you enjoy. I mean, music is a real leveller, it's something that really brings people together and today is an example of that. To say 'joy' would be an understatement I think. I just really think it's great watching people who have potentially never been on stage or done anything like this before.
Performer: All of youse are the best! I care about all of youse, Chelsea, you're the best service in the whole world.
Performers: We smashed it! We smashed it!
Performers: We are ready to rumble. Ready to rumble! Ready to rumble!
Performer: We're going to knock the stage, we're going to rock!
Paula: Be strong, be brave, be you.
Amanda: I don't think I was expecting to be as overwhelmed as I was.
Performer: We have a couple of people in our band who aren't vocal, so we just wanted everyone to be able to accept us as well. The song is called 'this is me' so it's really about accepting people for exactly as they are, no matter how they come. Even people that couldn't hear can hear can see what we're signing and can be a part of it as well.
Performer: Yeah!
Performer: We wanted all people to be involved.
Performer: You ready for the fame? You ready for the fame life?
Performer: Yeah.
Performer: You got this. I was just so proud. Yeah, I was so proud of them, I think they did awesome, they just blew us as staff away, completely. The fact that some of them would get up there, I think it really showed some of them getting out of their shell as well and yeah, it was just really good to see and we are just so proud of the effort that they have put in and everything that they have done and yeah, we're like, overwhelmed.
Performer: I would like to actually just thank everyone. The whole scene is incredible. It's for us to be able to celebrate inclusion and diversity and that's what we're all about.
Keen to get involved? We have more events coming up!
More Battle of the Bands events
We asked the KingStones' Nick Dale about his Battle of the Bands experience
— this is what he had to say…
"On the 21st of May 2019 we KingStones went to the Battle of the Band in Eatons Hills in Brisbane. Over the last 6 Battle of the Bands the event was held at The J Noosa but now for the first time this year it was held in Eatons Hills near Brisbane. Various bands from the North of Brisbane to the Gold Coast and Logan attended.
These bands played various songs to perform and they did an exceptional job to entertain the crowd. And if so they even did dance competitions to see who is the best dancer. One of them is a prize which is a double pass to the Gold Coast Titans Rugby League game. None of us (KingStones) won the prize but oh well. Our main man Aaron Shaw was the host. GO AARON!!!
So here how it goes. It began with a band that play jazz music. Sounds good. But the next one became my most favourite performance is Jeremy with a ukulele. And he has Tourette Syndrome like mine. But as time goes on, there are two bands that played a song from The Greatest Showman (THIS IS ME).
One of them from Redcliffe (I think it was the Reds) they played one of my former favourite song by the Bee Gees (Stayin' Alive). But what everyone wants to hear is if you guess is the KingStones. I began with my own rap (Clap your hands everybody!) and then we go straight to our own song Going Up which is our first single and Thank You. We all have a good time and overall I really enjoyed it. It was fun and entertaining. We are looking forward to our next year's Battle of the Bands for our Third Year. Thanks for reading."
And for Always and Forever
Nicholas Dale (on the mike) 2019