Endeavour Foundation turns 70 – celebrating all abilities with showstopping Battle of the Bands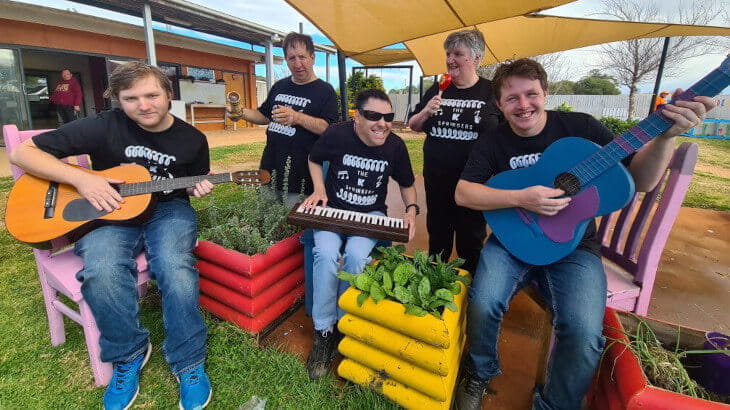 From the moment Cameron's fingers glided across a keyboard, he created magic.
The 39-year-old, who is blind, has been preparing to participate in Endeavour Foundation's 70th anniversary Battle of the Bands, but life would probably have been much different for him 70 years ago.
"Our Battle of the Bands has the power to make people feel included and accepted," said CEO Andrew Donne.
"However, people with intellectual disability haven't always had the same opportunity to showcase what they can do.
"Seventy years ago there was little support available for people with disability and children with intellectual disability were being excluded from Queensland's classrooms due to overcrowding in the post-war baby boom.
"Endeavour Foundation was born from the voices of parents who started by demanding one of the most basic rights for their children – the right to an education.
"They began a movement that advocated for social inclusion for people with disability and while we have come so far, we know there is much more to do.
"People with disability are still fighting for their right to a job that suits their abilities, the right to a suitable and safe home, and the right to be included."
Cameron, who like Madonna and Elvis before him, prefers to go only by his first name, said he was proud to showcase his musical talents at an all abilities virtual Battle of the Bands, as part of Endeavour Foundation's 70th anniversary celebrations.
"Music has been my passion since I can remember," he said. "I taught myself how to play the keyboard, guitar and bongos – you could say I've got magical musical fingers.
"Being blind, I've found that I am more attuned to sound, and can mimic any song I hear."
Cameron is the lead vocalist and pianist of an all-abilities, band born out of Endeavour Foundation's Learning and Lifestyle day service in Toowoomba.
"I love entertaining people with my music, and thought there is no better way to debut Toowoomba's newest band than in the Battle of the Bands," he said.
Mr Donne said Battle of the Bands began in 2014 with the aim of bringing live music to everyone, no matter their ability. This year's Battle had the theme "the future is bright".
"People with disability are often told what they can't do, and Battle of the Bands is an event that focusses on ability, empowering participants to show the world what they can do," Mr Donne said.
"While promoting inclusivity, the Battle of the Bands is also an avenue for Australians with disability to explore their musical potential and reach for their dreams.
"And what better way is there to celebrate our 70th Anniversary than by celebrating the individual talents of the people we support?"
More than 100 performers with disability across 16 acts showed off their talents and love of music by taking on songs by music legends such as John Denver, The Beach Boys, and Elvis Presley. Some will also be unveiling original compositions.
"People with disability can do anything we put our minds to. If people want to judge us, they should judge us the right way, on our ability to rock out," Cameron said.
Toowoomba's K Springers (featuring Cameron) won "judges' choice", Labrador Learning and Lifestyle, Incredible Imperials, received the award for "most energy in a performance" and The Boulevards from Mermaid Waters took home the "best costume" award.