Why accessible housing matters
Hi I'm Russell. I am in the photo. My house makes me happy. Cooking makes me happy. Gardening makes me happy. The blue buses makes me happy. My worker Ruth makes me happy. Drinking beautiful coffee makes me happy. I hope you like this photo.
When you hear 'accessible housing' what do you think of? Railings and ramps?
Well you wouldn't be wrong – these are definitely ways to make housing more accessible for people with disability, but they are just the tip of the iceberg.
We're passionate about supporting people with disability to live as independently as possible, so we're kinda obsessed with making sure our houses suit the people who choose to call them home.
Show me the homes!
If you've stumbled across this page looking for vacancies – you'll want to head along to our vacancies page.
We're building new and fully accessible homes all the time and even then we often can't keep up with demand, so if you're interested but don't see anything in your area, make sure get in touch by hitting the contact button at the top of the page.
In our homes, we offer Specialist Disability Accommodation (SDA), Supported Independent Living (SIL) and some of the best staff around (if we do say so ourselves). We're proud of our ability to help people with intellectual disability not only move out of home, but thrive in doing so.
Changing the home to fit the person – not the other way around
There's a big difference between a house and a home. We do everything we can to make our houses a home for the people who live in them.
Accessibility needs will often differ from person to person. Many people with disability have experience being in spaces that don't work for them. A home should never be that kind of place. Once a barrier has been identified, it's a case of working out a solution that works for the person who will call the space home.
When we build a new home, we purposefully leave them as a bit of a blank canvas, that way we can work with the new housemate to really make it their space – including the things they need for accessibility.
Another thing that's important to note here is that as your needs change, so too can your space and support, which is not always possible in regular housing.
Why accessible housing is important
Everyone deserves a home where they can be safe, comfortable and completely themselves. For people with disability, sometimes it's a lack of accessibility that can get in the way of making one or all of those things possible. Simply put, accessible housing helps people become independent. Moving out of home can be a big step, but also a rewarding one.
Russell is one of our customers who moved in to one of our brand new homes. He says it's one of the best things he's done.
'It was a good decision to leave home. I am happy. I have a big, big room in a big, big home,' he said.
Since the big move, Russell has embraced his independence and taken on an important role in the house.
'I'm a chef! It feels good to make food for people. I am good at cooking,' he said. 'Everyone always says "Russell I'm so proud of you"'.
How staff help make housing more accessible
When you think about housing accessibility you would most likely think about physical modifications. But for people with intellectual disability often it's the face-to-face supports that make a house accessible.
Many people with intellectual disability need a little support to do things around the home, whether that be help getting ready, using appliances, keeping a routine, or just following their passions. Without support staff, this might be a very difficult thing, so in many instances it's actually the staff that provide that level of security and support that makes living out of home possible.
And our staff are incredible
Ruth is Russell's worker and the two of them get along like a house on fire.
'He's incredible - he's an amazing human being and we are lucky to have him,' says Ruth.
Ruth is very passionate about people with intellectual disability gaining independence out of the family home.
'Disability or not, being able to live independently is an important choice, and one that everyone deserves to have' she said.
'Living independently gives that responsibility and freedom to be who you want to be – to live life your way.'
'For me, the best think is seeing that feeling of pride when they walk in to the house,' she says.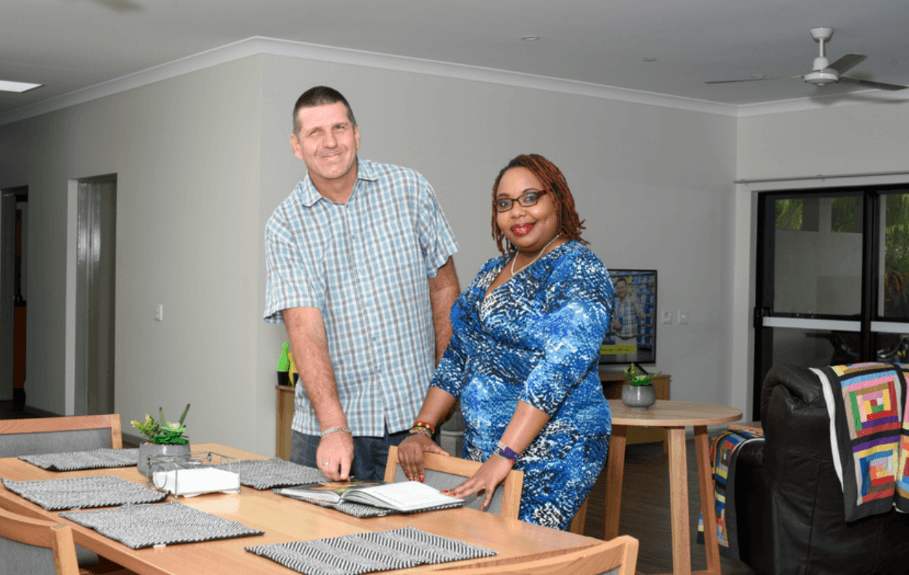 Russell and Ruth have developed a close bond in the years they've been working together
How assistive technology helps make housing more accessible
Assistive technology can mean a lot of things in the disability sector. When it comes to homes, it's a really exciting field.
Assistive technology is making specialist disability accommodation safer, customised and, of course, accessible. Nothing gets our property team excited like the latest tech and our homes are a reflection of this.
Technology really helps with independence. It means that people have their own space and feel safe. An example of this is that in many of our properties every room and bathroom will have a button that will alert staff. This means that people can go about their day doing tasks that they would rather do by themselves, and the staff can be there if they want or need them.
Our homes also include automation features like smart home air-conditioning ducted system with individual room control and we have provisions in place to ensure if there is a customer requirement for these features, it can be easily retrofitted with automatic blinds, lights and alike.
Making sense of the lingo
In the interest of making this blog a tad more, uh, accessible, we're going to break down some of the language people use around disability housing.
Sometimes it can sound like a different language. Here's a no-nonsense guide to what everything means:
Supported Independent Living (SIL)
Supported Independent Living is the umbrella term for all the NDIS supports that happen inside the home, and is a type of funding people with disability can receive from the NDIS. For more information, check out our blog What is Supported Independent Living?
Specialist Disability Accommodation (SDA)
Specialist Disability Accommodation refers to accommodation for people with high support needs. It is an NDIS funding stream that helps cover the physical bricks and mortar costs. For a provider to offer SDA they need to meet one of five different design standards. Each design standard covers a different level of accessibility.
Supported accommodation
Before NDIS, this is what Supported Independent Living and Specialist Disability Accommodation was called. It is still widely used as a term that encompasses both.
Disability accommodation
Sometimes you will hear people call it disability accommodation – this essentially means the same thing and supported accommodation.
Short term disability accommodation
Under NDIS, this essentially means respite.
A huge thank you to Russell and Ruth for sharing their story and being in the photos for this blog, and an equally big thank you to Catherine from Cairns Family Photography for capturing those smiles!