What is virtual reality (VR) learning? And how can it help me achieve my goals?
For most people, a virtual reality headset is a futuristic piece of tech that helps get them more immersed in video games, but for a growing cohort of adults with disability it's a valuable step towards independence.
At Endeavour Foundation, we've rolled out virtual reality learning to our Learning and Lifestyle hubs - and we are seeing some incredible results. So we thought we would take a moment to talk about what it is, how it works and why it works.
But first, a bit about the Endeavour Foundation VR learning program
When we saw VR coming on to the scene, we saw a ton of potential. Thankfully, some clever folk at Queensland University of Technology saw the same potential. Together we developed state-of-the-art learning programs.
While many virtual reality programs take place in a fantasy realm, the VR technology that we have developed couldn't be more different. The programs and scenarios are as close to real-life as possible. In our programs people have the opportunity to learn real world skills like withdrawing money from an ATM, safely crossing the road and catching public transport. While they may sound like simple scenarios, once mastered they have the potential to unlock a new world of independence.
Hundreds of Australians with disability have since taken on the learning program. The unique mix of gaming and learning has proven to be a winning formula. We believe that everyone has a right to independence and to learn in a way that works for them. By having a quality education resource like our virtual reality learning program, hundreds of Australians with disability have gained valuable skills for work and life.
We are developing new VR scenarios all the time. For us, it's important that the scenarios we build help real people achieve their real goals. No goal is too big or small - if it matters to you it matters to us and VR is a great way to help you achieve it.
Trainee receptionist Jamie Barling is already looking at how VR can improve her career prospects. "It's so lifelike! I have my driver's licence already, but I did the driving simulation and when I put the goggles on, it was so real!"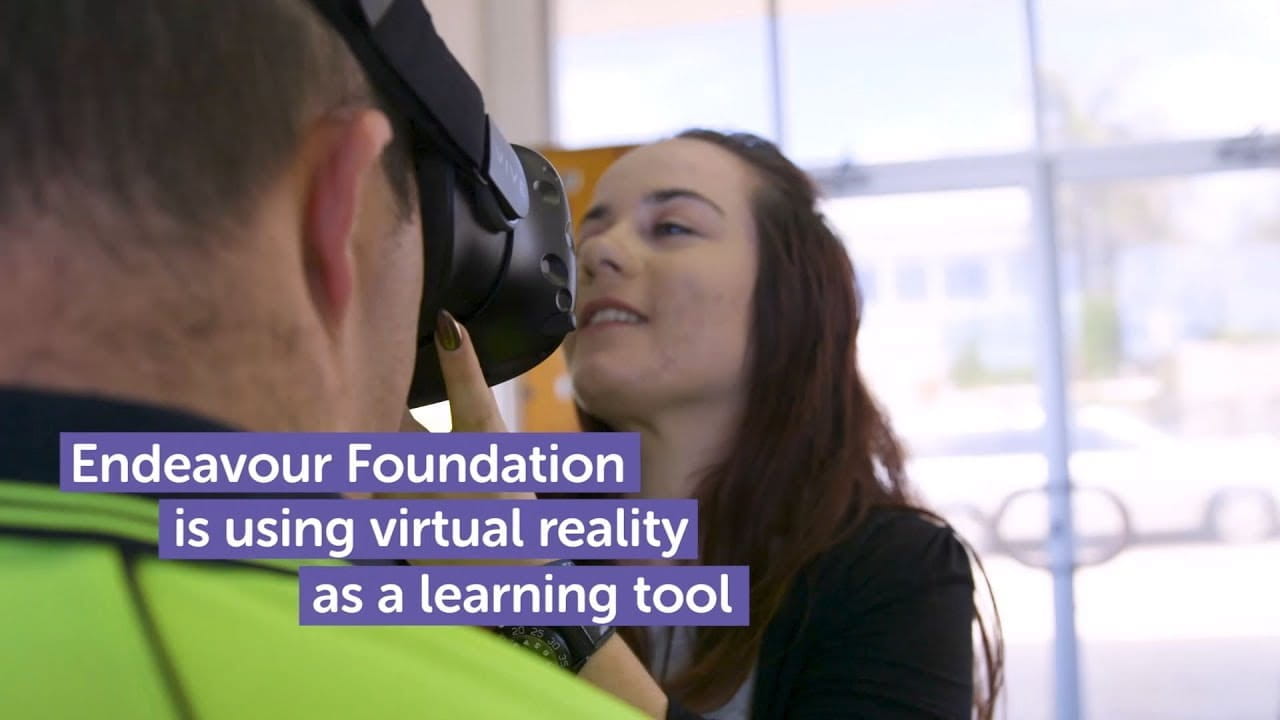 What do people think of VR learning?
The transcript is embedded on the video.
VR helps with confidence
It's often daunting to step outside your comfort zone - but that step can be easier if it's a virtual one. At its core, our virtual reality learning is all about giving people confidence. Whether that be confidence to use an ATM or even get behind the wheel of a car.
Virtual reality offers that 'middle step' between learning about something in theory and then giving it a go in the real world. It helps people set expectations about what might happen and lets people run through scenarios dozens, hundreds or even thousands of times before they tackle it for real.
Social enterprise employee Jason Kitzen is already setting goals around the possibilities. "I was like, 'wow! I think practicing will improve my confidence and I'd like to go for my Learners again. Learning to drive would mean I'd be able to get out of the house more."
It's safer
One of the main considerations is safety. If someone is trying a new skill, especially if that skill involves cars or other potentially dangerous situations, VR learning provides a no-risk platform to practice.
It's similar to pilot training. In instances where it may not be safe for someone to go straight to the real thing, they can give it a go in a simulation first and practice until they are ready. This means that people can see the consequences of their actions without having to experience them.
One of the best ways people learn is through their mistakes. VR learning let's people make those mistakes in the virtual world, thereby minimising risk.
It makes learning fun
If you go around and ask people why they like VR learning, I can guarantee you pretty much everyone will answer with 'because it's fun' - and it's designed to be!
It's plain and simple - if you can make learning fun and engaging, people will want to do it.
Our virtual reality learning programs are so popular that sometimes we even have school groups come in to give it a go at our Learning and Lifestyle hubs.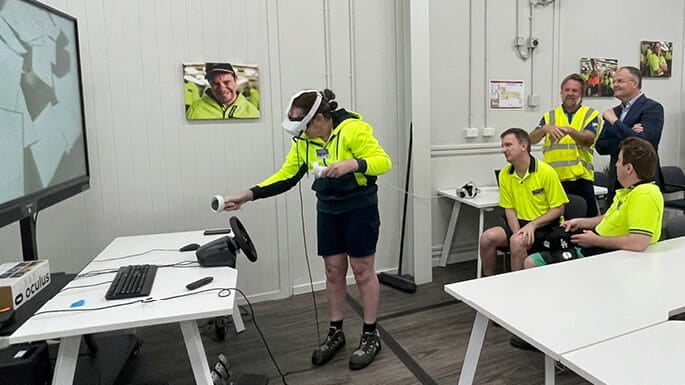 The VR headset has revolutionised the way social enterprise employee Glen Barling stays job ready. "It's like stepping into another world. In the document destruction program, you go into this room where you can see all different stuff on the walls. It feels like you can actually reach out and touch it. It's much easier to learn with the VR." - said Glen Barling.
Can I try virtual reality learning?
Absolutely!
The best way to give it a go for yourself is to get in touch with us and come along to one of our Learning and Lifestyle hubs. Our friendly staff will be happy to guide you through so you can try VR learning and see if it's for you.