Tips and tricks to a stable career in a supported workplace
Starting your first job can be really exciting, but it can also seem daunting and complicated. There are rules to follow, new things to learn, and colleagues to work and socialise with.
If you feel a little nervous about getting a job, you're not alone! The good news is, you don't have to do it without support.
Working in a supported workplace can help you build your independence and succeed, while still getting the support you need to be at your best. There are a few ways you can do this, whether it's in Supported Employment or Mainstream Employment with support.
Why look for employment?
Employment isn't just about earning money, although that is one of the benefits! At Endeavour Foundation, we believe employment is critical to helping people with disability feel included, empowered, and part of their community. Employment can bring many positives. Having a job can provide you with:
a sense of purpose
an opportunity to contribute to your community
opportunities to gain new skills, plus
a boost to your confidence and self-esteem.
Employment can help you feel better inside and build independence. It can also help you connect with other people and contribute to your community!
"I don't wanna be doing nothing, so I think getting out there, hanging out, doing what I do, keeps me busy. I don't want to be bored - I like to keep busy!" said Brandon.
Brandon is well-equipped with confidence and ambition. He transitioned from supported employment at our social enterprise in Wacol to an Administration Assistant in 2019 in our Support Centre. He recently began the next chapter in his employment journey and has now transitioned to Mainstream Employment.
Types of employment opportunities
Endeavour Foundation can help you find stable and enjoyable employment in two different ways: Supported Employment and Mainstream Employment with support. Whichever you choose, our approach is the same. We focus on what you can do.
Supported Employment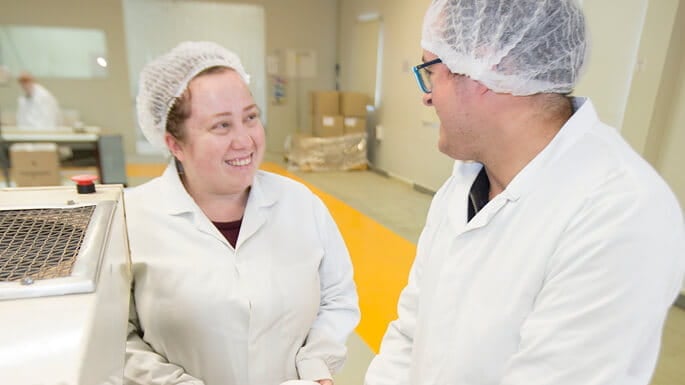 Supported Employment is employment that is designed for people with disability. It's best suited to people who need a bit more support at work than what is available in a mainstream workplace. It's also great for people who are transitioning from school into a supportive first job.
In Supported Employment, you'll get to learn new skills, be part of a team, and earn an income. It's a great way to overcome the challenges you may face in the workplace by getting on-the-job support when you need it. You'll have the opportunity to work with big-name brands, make friends, and get ongoing coaching and training in a fully supported environment.
Mainstream Employment with Support
Mainstream Employment is a job that can be done by any person. It's different to Supported Employment because it takes place in mainstream workplaces. Mainstream Employment is the term that is used when someone with disability works in a workplace with other employees without disability.
At Endeavour Foundation, we offer Mainstream Employment, but with a difference: added support. This means that we help people with disability find Mainstream Employment opportunities, and then provide them with ongoing support to help them reach their goals. So, you can be sure that no matter what kind of workplace you choose, you can succeed!
You can find out more about how Supported Employment and Open Employment with Support are different here.
Three tips for success in employment:
Whether you choose Supported Employment or Mainstream Employment with support, you'll benefit from having some tools and strategies to perform well and feel great.
"It's fun, it's really hard work, but at the end of the day, you know you're doing some good stuff." said Jordan, an employee at our social enterprise Rockhampton.
Here are our best tips and tricks for a successful career:
1. Consider your long-term employment goal and plan for it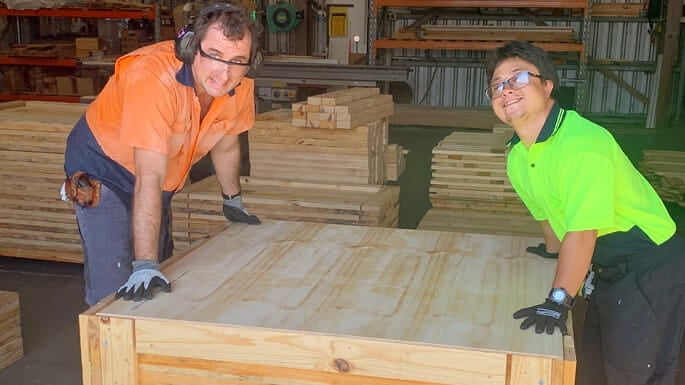 Have a clear idea of what you want to achieve in your career. Having a goal in mind can help you and your Support Coordinator choose opportunities that align with what you really want and care about.
Think of it this way: setting a long-term employment goal is like putting the destination into Google Maps. Once you know where you want to go, you can map the way there! That might mean getting some experience along the way to your dream job or building new skills that you'll need to do it.
2. Talk to your Support Coordinator about your interests, strengths and abilities
Being successful in a new job starts with finding an employment opportunity that suits your interests, skills, and goals. Your strengths and abilities are what make you unique, and finding a job that makes the most of them is a win for both you and your future employer.
Your strengths and abilities can come in many forms. They might include things like your extroverted personality, your strong work ethic, or your hobbies which have helped you develop unusual skills.
This is where your Support Coordinator can help! Talk to your Support Coordinator about what you like, what you're good at, and what you want to achieve in your career. They will take all of it into account to help you explore different options for work that you'll enjoy and succeed in.
3. Use a range of different funded supports
There are a range of different types of support available if employment is one of your goals. Here are some things you can use from your NDIS plan to help you succeed at work and achieve your employment goals.
"The thought of having a job and working with people with disabilities, like myself, makes me proud of the work I do at Endeavour Foundation. The fact that we are provided with support and training helps me develop new skills needed at work and at home, too," said Cindy Lou, an employee.
Your NDIS planning meeting is a great time to talk about any employment goals you have. Bring any relevant information with you, such as previous employment plans, school reports, or work assessments. Your Support Coordinator can help you get the most out of your plan to achieve your work goals.
Coordination of Supports
If you're already working with a Support Coordinator, you might already know about this item! You can use this funding item to get a Support Coordinator to help you figure out what you want and find Supported Employment opportunities.
Supports in Employment
This is the most common and flexible type of support you may get in your NDIS plan. You can use this support to build basic work skills and explore your options related to your employment goal.
A lot of people get nervous about starting a new job, so you're not alone if you feel that way! You can use supports in employment to have a support worker come with you to help you settle in, get comfortable and meet your new colleagues. You will also use this support for your regular help at work.
Individual Employment Support
The best possible outcome is for you to enjoy your job and build independence while doing it, so if something isn't working for you, change it!
Using this item, you can work with your support provider to manage any barriers that may prevent you from keeping your job. This might mean reducing your working days, doing a TAFE course while working part-time, or changing one of your days from work to activities at the Learning and Lifestyle hub.
Individual Assessment, Therapy and/or Training (Including Assistive Technology)
Everyone has different needs to perform well at work. If you want to ensure your workplace is set up for you to succeed, use this item to arrange for an Occupational Therapist to visit your workplace and help you get set up.
Specialist Behaviour Intervention Support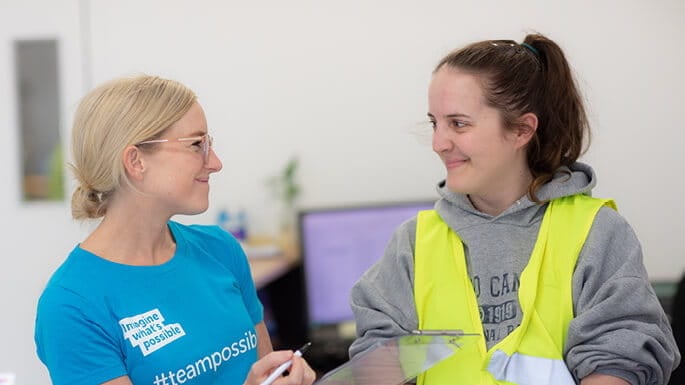 Sometimes the challenges of employment can cause difficulties with managing tough emotions or behaviours. That's ok - that's what Supported Employment is designed to help with! Using this item, you can have a support worker attend your workplace to help you manage your behaviour in ways that are appropriate at your workplace.
Interested in exploring supported employment opportunities? We're here to help! Enquire about supported or open employment options today.
At Endeavour Foundation, we're passionate about finding opportunities for people with disability to build on their strengths and gain the skills, confidence and experience to find jobs they love.
Add blog tile to bottom of this page: https://www.endeavour.com.au/disability-services/disability-employment/our-approach-to-work next to other tiles.
Would we brief this to the Digital team to add?
Yes :) And to clarify i mean, add this blog as a tile to the bottom of the approach to work page once republished.