Bringing 'Joy' through art, meet Wurundjeri artist Mya
Creativity and art can be one of the most fulfilling pursuits in life, providing an avenue for self-expression, creative fulfilment, and enjoyment.
Mya is a 19-year-old QArt Wurundjeri artist who is inspired by her culture to bring joy through her art.
Since she was 12, Mya has been exploring art, but it wasn't until she participated in an Aboriginal art program when she was 16-years-old that she found her talent and passion for storytelling through art.
"I didn't know until I did the art program the impact that I can make. I love every artwork I do, not only because I can share my culture, but because of the person's reaction when they see it," Mya said.
Experimenting with different textures in high school, Mya began her artistic journey by testing modelling paste with paint and water colours and mixing sand and acrylic to express the beauty of nature, and the Australian bush.
"I always want my art to evoke emotion. My art is colourful and tells a story," she said.
Now in her third year as an artist at QArt Studio and Gallery in Kew, Victoria, Mya works alongside talented artists of all abilities and receives artistic direction from her colleagues and Studio Supervisor, Gordon Hayward.
"The skills I've gained here at QArt are incredible. It's the little conversations that we have every now and then," Mya said.
"I love coming to work, being in an environment where I can be myself, and a place where I can be professional. I'm living a dream."
Taking on commissioned artworks through QArt Studio and Gallery, Mya said she finds satisfaction and pleasure when someone purchases her artwork from the Gallery on High Street in Melbourne.
"I did a commission for a lady earlier in the year. When I gave her the painting and told her the meaning behind the art and my inspiration, she just cried. And that's why I do it," Mya said.
"I just want to help people. My goal in life is to help them and make them feel better because that's what art did for me."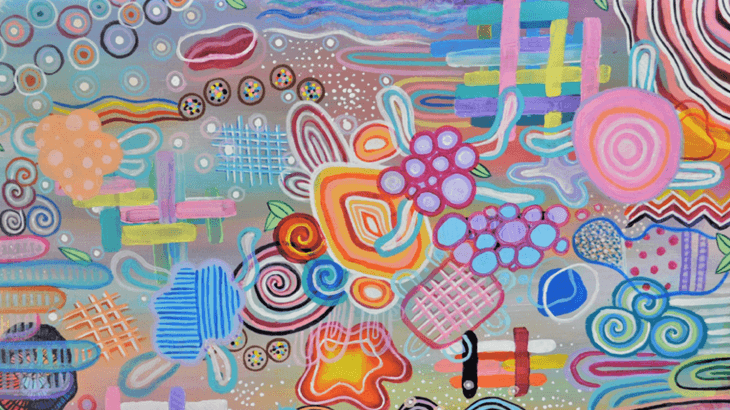 The pictured artwork above called 'Joy' was painted by Mya.
"I wanted it to represent fun and give you happiness when you look at it," she said.
"I also wanted it to connect to the land too. For me, the land gives me joy."
Mya enjoys going for walks and reveling in nature to escape the stresses of everyday life to find peace.
"In my spare time, I go to the Warrandyte River and I sit there listening to and watching the river just to give myself some time to rest."
"I use walking and nature to calm down, and that's represented in some of my art," she said.
Sharing what the future might hold, Mya said she'd love to see more people support Indigenous artists and even artists with disabilities.
"I look up to a few Aboriginal artists. It's amazing what they do, and how they tell the story of our land. We still have a long way to go for reconciliation, but we can take small steps by supporting Indigenous artists by buying and promoting their work," Mya said.
"The same goes for artists with disabilities."
QArt Studio is a purpose built, professionally operated studio located in the Melbourne suburb of Kew, where artists are given support and artistic direction by qualified managers to enable them to reach their potential. QArt Gallery is located at 188 High St, Kew VIC 3101.