Finding independence in a new community
Moving out of home is a big deal! It's common to be a little unsure when you make the decision to live independently. It's something that often involves the whole family and can be a big change for everyone!
Meet Andrew, an Endeavour Foundation home resident.
"I'm Andrew. I recently moved out from Toowoomba into Ipswich. I like living in Ipswich. It's nice and close to my dad. I've got a great home. I've got best friends. I've got better staff, and a better workplace like Endeavour."
Finding my Home
Andrew says he was ready to move out of the family home and live independently in early 2021. Making the decision to move from Toowoomba to Ipswich was easy, it's where his dad and step-mum live. Andrew felt excitement mixed with uncertainty and nerves. He was ready to find a new home.
With the support of his dad and step-mum, Andrew says his NDIS team worked together to find the right home for him. "They worked with my carer and family to find a house for me. I went to visit a house, to see my room – my own space, and where all my stuff would go. I got to decide if I liked it – if it was a nice place to live, and I said, 'yep, I like it!'"
Having found Supported Independent Living that he liked, the next step was to meet the potential housemates and staff! Andrew said he enjoyed meeting his housemates, "I met my future housemates and liked them. We talked about who does the cooking and cleaning, favourite music, TVs shows, and general stuff we liked to do."
Andrew said meeting the housemates and transitioning into the home was a positive experience. It gave Andrew and his family the opportunity and time to get to know everyone a bit better and make sure that he was happy and confident with his choices. The shift from house to a home is a welcomed addition to Andrew's life.
Andrew said he's settled well into his new home. "I've got the best housemates. We have a good life, and great support."
My Home, My Community
Friendship is an important part of everyone's life. While it can be challenging to meet new people you truly connect with, we all crave social connection.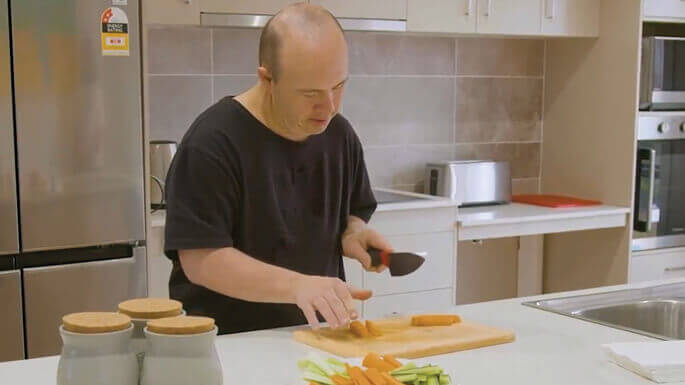 Andrew has developed a network of friends and support around him. He has quickly established himself at home and within his local community of Ipswich.
As a social person, Andrew likes to be out and about in the community, and his home is in a great location. With easy access to transport, amenities and local shops and facilities.
Andrew spends his weekdays smashing out his goals at the Learning and Lifestyle Hub. "I go to Endeavour Monday to Friday, and I have a lovely time with my friends," Andrew said. A highlight of the week is going to Men's Shed. Andrew says he also enjoys arts, cooking and workshops, and getting out for coffee with friends on breaks.
Weekends are about relaxing and catching up with family and friends – whether it's heading to the movies or a walk and coffee in Queens Park.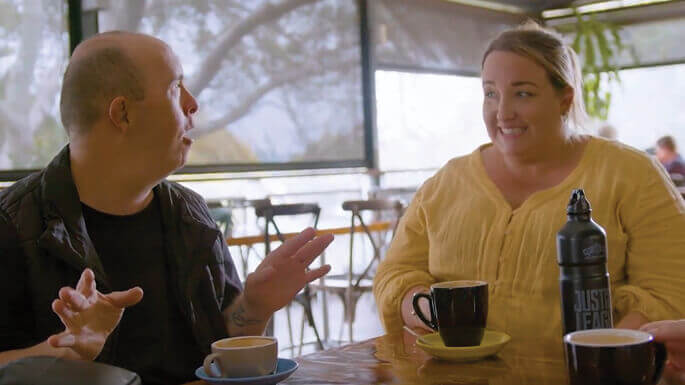 "Ipswich is close to everything, like transport, people, friends. One of the best places in Ipswich is the Sunday markets – fresh fruit and vegetables. I'll catch the bus there. And the library because they have comic books – Batman is my favourite superhero character!" Andrew said.
Inspired by a trip to Bunnings, Andrew has recently turned his hand to gardening, making a veggie garden in the backyard. "I'm growing cauliflower, snow peas, onions, tomatoes, and broccoli. There's also spring onions and some herbs," he said.
Andrew has settled into a relaxed environment with housemates that have become friends, and where they share regular chores of cooking, washing and cleaning.
Andrew said he particularly enjoys cooking and is happy to be in the kitchen. As the self-appointed 'best cook' he enjoys healthy eating and has a 'health start' plan in place. With a veggie patch now in the backyard, homegrown goodies may feature on the menu very soon!
"I like my life. I have my own space, my own TV, and I've got nice posters in my room. I have a great life with my friends," he said.
"I like living in Ipswich. It's nice and close to my dad. I like Ipswich because I got a better workplace like, Endeavour. I've got the best housemates, best friends, best staff. It's nice and relaxing."
"Endeavour is awesome, and Ipswich is best and awesome," he said.
Living your Life in Ipswich
If you have ever enjoyed an idyllic afternoon drive west of Brisbane, chances are you have passed through Ipswich. One of Queensland's oldest provincial cities, Ipswich is a stunning location, that shares a rich history of heritage, architecture, beautiful parks, nature, and culture. It has managed to hold onto its relaxed and laid-back lifestyle while offering a vibrant and growing cultural scene with lots of modern amenities.
Ipswich offers a thriving café and restaurant scene, shopping centres and libraries, easy access to rail and bus transportation networks, and a community that is committed to enhancing the quality of life for people with disability.
If you want more information about living independently, like Andrew, check out Supported Independent Living.