Aliens are scary - the NDIS isn't
Lucas is a Supported Employee at Endeavour Foundation Business Solutions Wacol in Queensland. He's a brilliant writer and is full of really handy life advice. In this blog, he offers his tips on how to handle two very different life situations: how to prepare for your NDIS planning meeting, and how to stay alive if aliens come to visit.
But first – about me
Hi there Reader, my name's Lucas. Sometimes though, it's Luke, Lewis or even Dylan depending on who you ask. That's one of the great things about Endeavour Foundation, every day is full of wonderful surprises.
I was born in Brisbane. I'm 25 years old and a father to a young puppy named Charlie.
Should I talk about my writing? I feel like I should. I've been writing short stories since a very young age, covering topics such as the Easter Bunny, the Big Bad Wolf, where babies come from and other important issues.
I've been with Endeavour Foundation for what's felt like a few lifetimes but has really only been five years. I've found that working with Endeavour has really broadened my perspectives which I feel has made me a better person.
Over my five years, I feel I've become really close with the supported employees. So much so that they'll come to me at all hours of the work day, even at times that are most inconvenient, like when I'm preoccupied. I don't mind though because I'm always happy for a chat.
Look at my son! Isn't Charlie adorable?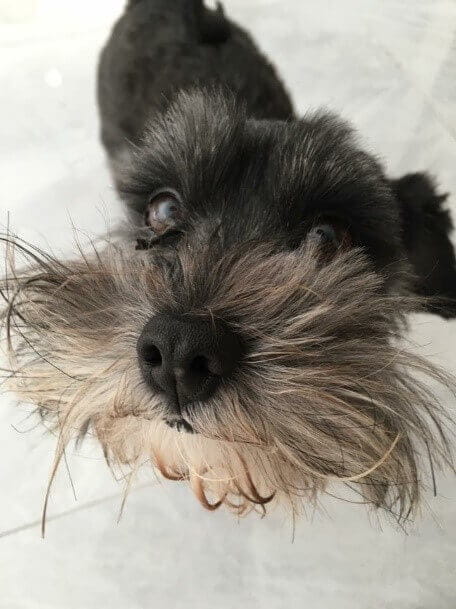 Here are my tips on how to handle two very different life situations:
1. How to prepare for your NDIS planning meeting
Is the thought of NDIS scaring you? Is the thought of NDIS keeping you up at night? If your answer's yes, I'm here to tell you that everything should be okay.
How do you prepare? I'll tell you.
Start today
Where do you want to go in life? What would you like to achieve? Take a moment to really think about that.
Think big
Don't be afraid to really think about what you'd like to do because this is your life.
Keep a diary
Are there obstacles in your day-to-day life? Write them down or even take a photo. This way, you'll have the perfect examples to show during your meeting.
Take someone with you
You're allowed to bring someone along to your meeting. This could be family or friend or an advocate, just someone who could assist in explaining things to the Planner.
Research
Speak to others who've made the phone calls and sat through the meetings to better prepare yourself and take full advantage of NDIS.
Be specific
It's super important that you be as specific as possible so that you're getting exactly what you want and not something lesser.
Get paperwork done early
You'd feel so much better if the paperwork's completed well in advance.
Don't panic
Everything's going to be just fine.
2. How to stay alive if aliens come to visit
If you're anything like me, you probably go to bed each night thinking "Will they come tonight? What will I do?"
An alien invasion could happen anywhere at any time so it's always good to be prepared for when that happens. How should you prepare? Well, here's a few tips on what to do when they come:
First of all, you should stay calm and friendly
At least until you know what their intentions are. You should also try to be friendly to your neighbours otherwise they may want to hand you over.
Emergency bag to be kept in your vehicle at all times
Bag to contain rations, water filter, spare clothes and wind-up radio.
Wherever you choose to hide, make sure there's a clear exit out
You don't want to be a trapped in a room full of unwanted visitors.
Don't go near the space ship or crash site
The air could be toxic or it could be a trap. We know nothing about them so they could be full of surprises
Can't really stress enough how important it is to try your best to stay calm
Any bad decisions could be costly.
In summary…
Aliens are scary. The NDIS isn't.