5 reasons you should buy Australian made gifts created by a person with disability this Christmas
Choosing Australian made gifts will help local businesses get back on their feet this Christmas, as Australians in the country's two most populous states make plans to reunite with friends and family after months of lockdown.
Buying Australian made gifts, created by a person with disability, will give you good Christmas presents, boost the local economy, and they have the added benefit of arriving quickly.
People who live with disability are twice as likely to be unemployed as those without disability but social enterprises such as Endeavour Foundation's in Melbourne offer paid employment, mentoring and training opportunities to artists with disability.
According to the National Retail Association, Australians spent $55.4 billion in the Christmas trade period last year (up 11% on 2019) including $11 billion on Christmas gifts. Meanwhile, since the coronavirus pandemic people have reframed their priorities and values and 52% of Australians believe locally sourced and manufactured products are now more important.
So, embrace those values because here are five great reasons you should buy at least one Christmas gift made by an Australian with disability this year.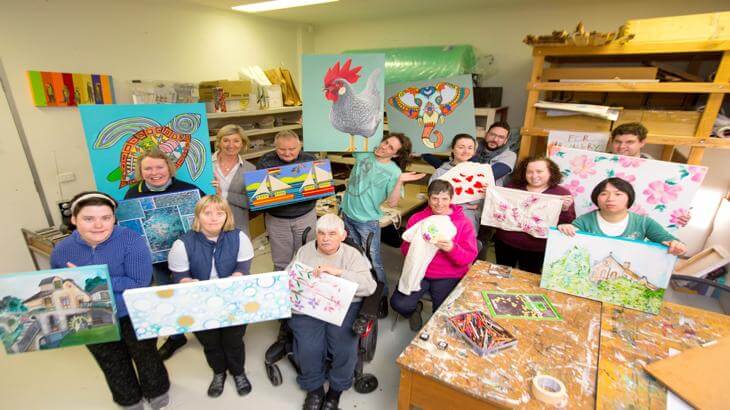 1. You don't have to pay more
Yes, you're buying something local, it may even be handmade, but that doesn't mean you have to pay more. Just work out your price point like you would with any gift. You can also buy something as small as a Christmas card designed by an artist with disability for just $3.
2. You're creating job opportunities for people who face discrimination in the workplace
Don't forget the feel-good factor. Literally everything you buy from a business that employs people with disability will help maintain jobs or even create new ones.
3. Buying local keeps money in the community
Social enterprises run by not for-profits, or even small businesses run by individuals, aren't sending boatloads of money to overseas shareholders. They employ local people, pay local wages, deal with local suppliers and that goes a long way towards boosting your local community.
4. The products are top quality
Australians have very high standards, and so we should! Products made and sold in Australia have to meet those standards and products handmade by people with disability are no different.So rest assured you will always receive top quality goods.
5. Order online and don't wait for it to arrive from overseas
Holiday shipping deadlines are earlier than ever for 2021. This is because COVID-19 has caused many deliveries to take longer than usual as a result of limited flights (domestic and international) and an increase in online shopping. If you order an Australian made gift from an Australian website, you'll get your present in time for Christmas.
There you go; five great reasons to buy a gift made by an Australian with a disability this Christmas. If you're looking for inspiration on where to start, there's nowhere better to go than QArt Gallery and Studio. Buy online and items can be shipped anywhere in Australia. To guarantee Christmas delivery, it's recommended orders are placed by 10 December at the latest.
QArt Studio is a purpose built, professionally operated studio located in the Melbourne suburb of Kew, where artists are given support and artistic direction by qualified managers to enable them to reach their potential.