Out of home and loving life
There are few people in the picturesque North Queensland town of Cannonvale more well-known or loved than 22-year-old Charlie.
With the help of his NDIS funding, Charlie lives in one of our Endeavour Foundation houses– not that he's home very much.
"I love my house, but I'm barely home because I'm out doing all sorts of things," said Charlie.
"I think I know everyone now. People are always saying 'hi Charlie', 'hi Charlie!'"
"Yes, I'm popular and I just love talking to them about what happens in my day".
Getting a tour of Charlie's house, it's clear that not only has living out of the family home given him his independence, it's also given him a lot of pride.
"The house has so many areas – and they are all for different things!" said Charlie.
"There are areas for sitting, areas for sleeping, areas for looking after the garden, areas for Denise to put her car, areas to get a glass of water and areas for looking at what's in the fridge! It's really a great house".
Charlie's Grandma Dee Dee said the family was initially apprehensive about Charlie moving out of home, but their concerns were quickly dispelled when they saw how happy he was living independently.
"When Charlie moved out of home, well honestly, we were worried," she said.
"I was concerned that he wouldn't like it and he would be sad. But I don't think he's ever been sad! From day one he's been the happiest man on earth!"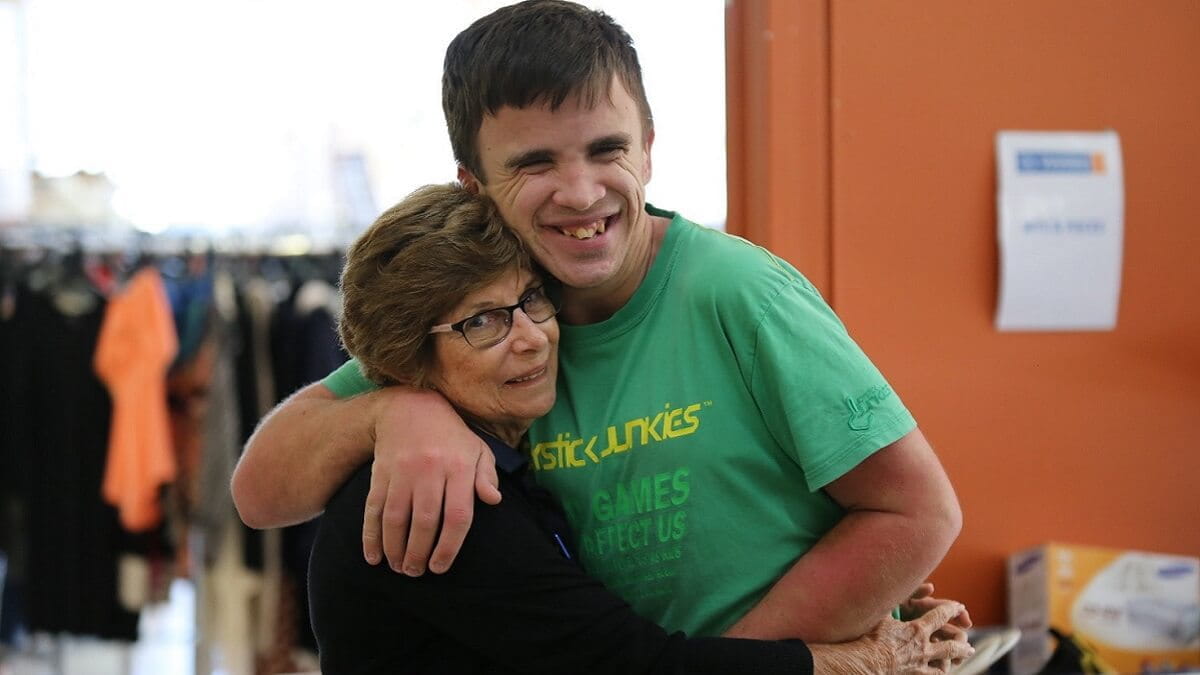 Charlie and his grandma, Dee Dee
Dee Dee says it's incredible how far Charlie has come.
"When Charlie was born it was hard. There were a lot of operations - he didn't walk until he was nearly five," she said.
"Charlie would never stop and talk. Now, he absolutely loves it. You can take him for a walk anywhere and everyone knows Charlie. People are drawn to him."
Dee Dee says that the decision for Charlie to move out of home was made easier knowing that support was available to help him live independently.
"His support worker Denise is incredible. We love her. She doesn't let him get away with anything and we love that," Dee Dee said.
"But he's a good boy, he does what he's told. It wasn't a hard decision for Charlie or the parents for him to move out of home."
As for Charlie, he says he has had a ball living in his new home.
"I love this new house! The good thing about my house is living with Donny. We watch the footy. Cowboys take on the Broncos tonight!"
Dee Dee says the support for Charlie has been incredible, and she couldn't imagine a better outcome for her grandson.
"Charlie is a young man just surrounded by love. The family relationship since Charlie moved out of home is perfect – it couldn't be better. We are all closer than ever. It's been one of the best things," Dee Dee said.