Carol takes centre stage as Triple J's guest selector
Endeavour Foundation's Imagine What's Possible competition has once again made a dream come true for a person with intellectual disability.
For many years now, Carol has woken up to the sounds of Triple J in her Warwick home. What she never expected was to hear herself on the national radio station presenting her top three artists as a Good Nights guest selector.
"When I entered the Imagine What's Possible Competition in 2021, I never expected to win," Carol said.
Daneeka, Carol's support worker, described finding Carol won as a surreal experience.
"There were certainly tears of joy, we couldn't wait."
Unable to make the trip to Sydney to record her Guest Selector segment in person due to COVID lockdowns, Carol and Daneeka hit the road, travelling from the town of Warwick to Toowoomba to record with Breakfast Presenter David Iliffe, from ABC Southern Queensland.
"Walking into the recording studio I was nervous, David gave me the headphones that go over your ears, and I had Daneeka sitting right next to me," Carol said.
Once she got comfortable with the experience, Carol was thrilled to be able to announce three songs of her choosing to the Triple J audience, as well as share why she chose the songs and what she loves about them.
"I love the songs on Triple J because I like the lyrics and the beats."
While she also chose tracks by Dom Dolla and Meduza to share, the final song chosen was by Carol's favourite band, the Jungle Giants. What does she love so much about the band?
"Their personalities, and the lyrics that mean something," Carol said.
A true professional, Carol practised her presenter script until it was perfect; everyone in the recording box was impressed by her enthusiasm and passion for music.
"Carol did a marvellous job, you could see that she knew she had nailed it," David remarked.
And what does Carol think of dream experience?
"It was fun! Thank you Endeavour [Foundation] for making my dreams come true."
Watch how we made Carol's dream a reality.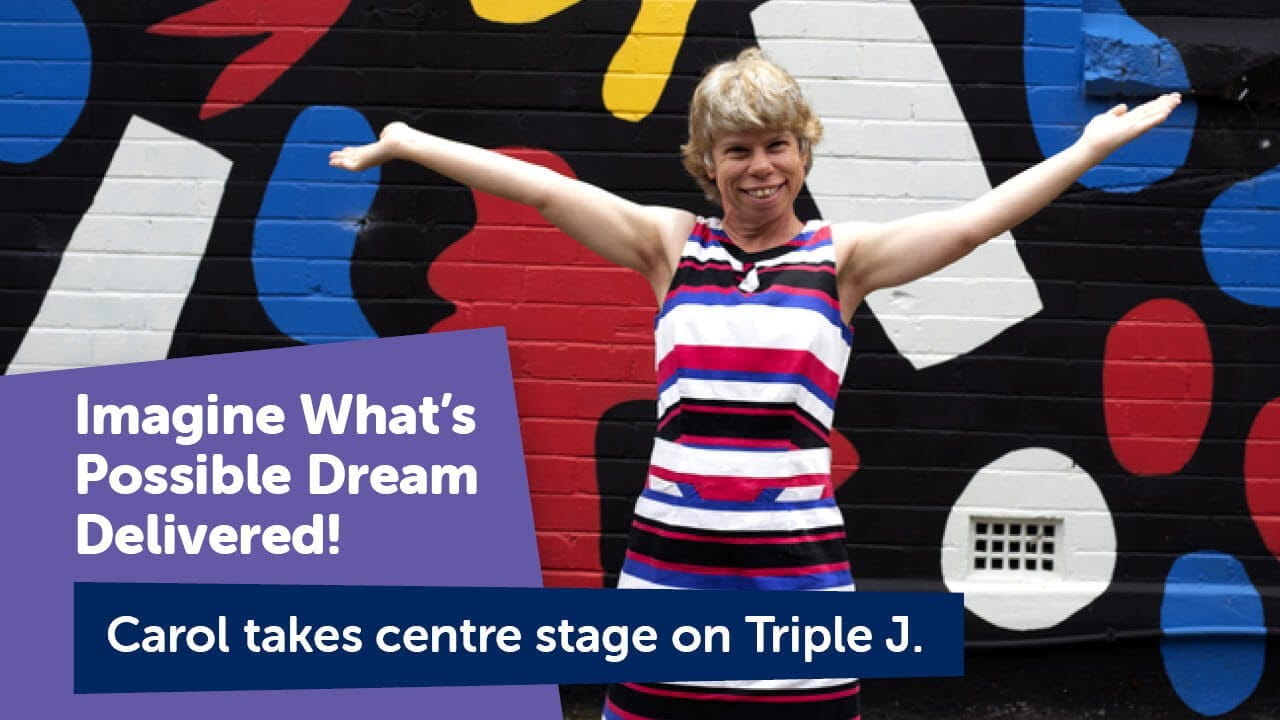 Carol takes centre stage on Triple J
View a transcript of this video on YouTube
Carol's debut on Triple J was just one among five dreams to come true with our Imagine What's Possible competition. Stay tuned to see more dreams become a reality.